Cyrus The Virus Slot Review
The theme of this Yggdrasil games are viruses. The playing field is in some kind of organic void that is full of these little ugly. Fortunately, Yggdrasil chosen to go the humorous way so you need not be afraid that the stomach should turn out-and-out. On a bigger screen feels both graphics gaming technology a bit too primitive, but the phone works great game and suddenly feels far more alive than on a computer. In short, a simple yet absolutely acceptable slot is not a masterpiece but have nothing charming about it. If you recognize the name "Cyrus The Virus" but can not quite place where you heard it before, we can save yourself googling and announce that it is a character from the action film Con Air (1997).
Gameplay, Theme and Graphics
Who Cyrus really is, we have not quite got the hang of, but it's really the only thing in this game is unclear. There is one special feature of the game – you can read more about in the section free spins below – otherwise it is all too easy. As usual, there are three consecutive terms of one or more of the five fixed paylines. But you can win from both sides so in practice it will be ten paylines.
You play on the five reels and middle-wheel is always there to stop finally. This gives a little extra nervous given that the wheel determines the profits from both sides. At most you can win 20,000 coins but with a coin value of £4 may still be a sizable coin. The smallest coin value is £0.01 which ten fixed lines means that you can bet between £0.1 and £40 per spin.
Special Symbols and Bonus Features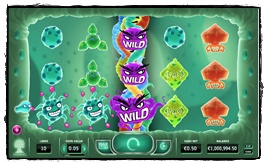 Now we do something that is not very common. And it is to express the sentence: this slot has no function free spins. Yes, you read that right. You can then Cyrus the Virus not win some free spins and this is quite unique because very, very many slot machines are more or less synonymous with the free spins. However, as this is an entertaining slot anyway, we at BonusesCasino.co.uk. Free spins had obviously been a plus but no, Cyrus the Virus measure up anyway!
You can thus Cyrus the Virus to experience something that comes very close to this with free spins and it is re-spins. In Cyrus the Virus can wild symbol (a purple / pink as it is "wild" in) pop up on the middle wheel (only actually) and this wild is expanding and generates in a re-spin. Every time you get a wild symbol in the middle wheel so it will grow and add in all the lines on this wheel. Then you get then another spin which gives you a chance to win. This wild symbol substitutes for all other symbols in the game and thus makes it easier for you to get winning combinations.
Summary
Cyrus The Virus must clearly approved. It's very simple to play slot and additionally availability very large. The game is about to spin out wild symbol and thus get a re-spin where the chance of profit is very large. Wild symbol pops up quite often and when we auditioned game we won 2/2 times. If it was lucky I do not know, but considering the RTP at 96.3% the game feels very promising. Something else positive Cyrus The Virus Slot is that you can win from both sides. A little tip before you start playing is to play test the game with pretend money. This gives you a good eye for the game's features and you can then decide to invest money in the game. Good luck!
20 Free Spins No Deposit
100% up to £200 Welcome Bonus
Features Diverse Range of Slots