Drive: Multiplier Mayhem Slot Review
For some reason there are not many video slot machines with fast cars and racing theme. If we look at popular themes in popular culture in general, such as for example in the film world and among computer games, is the racing and fast cars well represented. It was actually almost exactly 20 years for one of the biggest players in online casino games, namely the Swedish Net Entertainment, to squeeze out an "bilslot". The slot machine Drive – Multiplier Mayhem was released in February 2016 and this is a review of the game.
It's not just cars that are fast in Drive: Multiplier Mayhem, spins is also lightning fast, which means that fluctuations in the account can be quite large; in both directions. Fortunately NetEnt has lowered the minimum bet so that we, too, with a little less gaming accounts can get our fair share of fast-paced action. The graphics are in plain NetEnt – order the soundtrack polished and feels just right. With the effective multipliers Drive keeps you on the edge during the Preliminary Round as well as the bonus round and make this more in a series of great games from NetEnt.
Gameplay, Theme and Graphics
Drive – Multiplier Mayhem has a theme that is so close to the concept behind the immensely popular film series Fast & Furious is possible without having to buy a license. Sure, all the brazen heists as Vin Diesel and Paul Walker characters engineers through the seven films (so far!) Are hard to squeeze into a video slot, but the basic idea of ​​illegal street racing with both super-tuned Japanese sports cars that American muscle cars are what builds Drive Multiplier Mayhem.
When you behold game screen for the first time, you will probably be quite impressed. The graphics are in fact of a striking quality. NetEnt never cheat with the graphics, but Drive is something extra. Especially cool is it that the background is dynamic. As you play you will see a muscle car traveling on a road with a city skyline illuminated by millions of lights in the background. On the reels mixed character symbols Poker symbols and icons are rendered in the highest quality. The four characters have two roles in the game. Firstly, they are paying symbols and second, playing the lead roles in the race to build up the bonus round with free spins. Overall, it should be said that all symbols pay relatively modest. Why this is so will be answered below.
Special Symbols and Bonus Features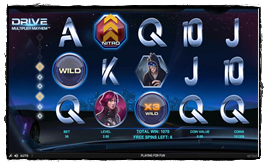 The functions in Drive – Multiplier Mayhem is essentially two in number. It involves both a wildcard function and a free spins bonus. Below are all the details.
There are a replacement symbol in the directory of icons on the rollers and is in the form of a revolution counter. Its primary job is to just replace other symbols. It has also, however, a second task and that is to reward you with multipliers. Plural? Yes, you can see your line wins are multiplied by up to 120 times!
This is made possible by the Jokers pays multiplier of between 1x-5x depending on which wheels they land on. It is simply the wheel numbers from left to right, which determines the size of the multiplier. However, it is not only that. All multiple symbols can be combined and that is the fact that allows you to win up to 120x on each line profit (1x2x3x4x5 becomes precisely 120). There is also a scatter symbol on the reels in Drive – Multiplier Mayhem. This little rascal can, however, only appears on reels 2-4. Should you get a scatter on each wheel (2, 3 and 4) you win 10 free spins initially. However, it can be much more than that.
Your free spins are played at the same bet as the round that activated Free Spins and symbols on the reels are essentially the same, with one important difference. There is a "nitro symbol" that functions both as free spins Scatter (three nitro symbols gives 10 free spins) and as a symbol that gives you extra guaranteed multiple symbols on wheels… The whole free spins round is supposed to work as a street race over four rounds. You'll take the role of the red-haired challenging the three men who have no problem with keeping the pedal. Every time you accumulate at least three nitro symbols, you will advance in the elimination race and also get additional guaranteed jokers and additional free spins. After all the way to the second race against nature Bruiser, you can expect to get a larger guaranteed profit in almost every spin.
Summary
Drive is to say a really nicely designed video slot with great graphics. The game also has two innovative special features. Suffice when to make the game a big shot? Well the answer is both yes and no and the answer depends on what style of play they mainly profess. The Drive is the terrible difficult to win big if you do not have an infernal luck with multiple symbols in the base game or come very far in the free spins round. It is often compared to the effort relatively small gains picking home in general. Do you have the patience to wait for big profits can Drive – Multiplier Mayhem be a very pleasant acquaintance. Have not really the patience you should probably choose another slot.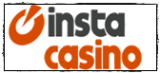 Mobile Version Available
Welcome Bonus Available up to £1000
100 Free Spins