Secret of The Stones Slot Review
The ancient Celts have until now been forgotten by the game developers, we now do not expect Merlin, King Arthur and the other characters from the stories of chivalry to the Celtic tradition. The Secret of the Stones from Net Entertainment is the ancient Celtic tradition with druids, stone circles and the like in each case in the center. Secret of the Stones is a video slot with 25 bet lines, scatter symbols, wild symbols and free spins mode with many exciting extras.
Secret of the Stones is a game based on Celtic mythology. It offers a lot of interesting symbols that can result in valuable benefits. The wild symbol is included, as in all other games from NetEnt, and scatter. The latter activates the game's free spins mode when it spun out in triplicate or more of the five reels.
Gameplay, Theme and Graphics
Net Entertainment is a master at creating beautiful video slot machines with a sound that is something special. The Secret of the Stones are treated to an amazingly beautiful graphics with richly detailed symbols and beautiful animation. Furthermore Rock dreamy music and the striking sound you into an almost suggestive atmosphere. If we did not know better, we would think that it was Enya or another artist with similar orientation that had created the sound.
Secret of the Stones in basic design of the classic type with five wheels, three rows and 25 bet lines. Just as is true for most of Net Entertainment's video slot machines, you can adjust both the bet lines, bet level, and coin value to adapt your bet exactly to your wallet and your appetite for risk. Minimum bet is £0.25 while the maximum bet is £125. With the game auto-play function, you can record up to 1000 spins automatically, with various conditions for the auto spin to finish.
Special Symbols and Bonus Features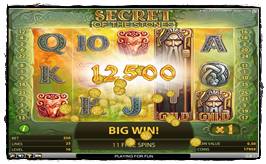 That said, it is the maximum win in the Secret of the Stones as many as 350 000 coins. A thrilling high sum, which can be yours. Game Plan's design is based on the familiar Celtic symbols and you can win at least three in a row by including a bull, an owl and a snake. Slot's charm and its greatness, however, lies in the bonus game. Three or more scatter symbols start the bonus game, which activates 10 free spins. But the free spins will not start until you acquired a number of extra bonuses.
Before the free spins start puts you in fact a mini-game with 20 stones. You may choose as many stones as you got scatter. Behind the rocks lies a variety of bonus symbols, including additional free spins, multipliers, wild wheels and wild symbols. Once you have chosen your 3, 4 or 5 stones start the bonus game. Thanks to these extra bonuses can thus profit balance to be really high, you could say that they can make you very rich.
Summary
Otherwise, the Secret of the Stones a fairly ordinary slot machine with wild symbols, 25-bet line right general prize amounts. It is behind the stones resting secrets, secrets that can secure your income for a while to come. Your chance of bonuses and free spins increases if you register with one of our partners, namely, they have put in order fine welcome for those who sign up. Then follow the links, download the bonus and give you then tackle the stones secretly.
Sometimes it gets a bit tedious to pay tribute to the Net Entertainment for every new video slot launched, but in most cases you have to just do it. Secret of the Stones is another in a line of extremely well-made video slots from Net Entertainment. If there is something you can complain about is the average gain in the main game is not very large. It is outweighed, however, more than offset by free spins mode in which you can usually count on profits plummeting into.
100% up to £400 Welcome Bonus
100+ Online Casino Games
A Long-Running and Respected Brand