Starburst Slot Review
Starburst developed by the game developer Netent and is probably history's most played video slot. With it's simplicity and incredible entertainment value has Starburst Free Spins gone and become something of an industry standard for welcoming new players. The fact that most online casinos choose to offer free spins on Starburst has of course a reason: they want to show themselves at their best when they're introducing modern video slot machines for it's customers. That most when choosing Starburst says of course a lot of the game's greatness.
Starburst released in 2012 and since then has only grown in popularity. Today Starburst one of Net Entertainment's by far the most played game. Anyone who has grown up with computer games and arcade machines in the 80s and 90s will recognize themselves in Starburst. The simplicity is in focus. This is a colorful slot game with a retro feel, which is easy to learn to play on. No complicated bonuses or extras, but rather a delightful gameplay and fun entertainment with the chance to win quite often!
Gameplay, Theme and Graphics
Starburst is a slot machine which is made from Netent and the machine has five wheels, three rows and ten pay lines. These ten paylines, however, in practice, twenty pay lines on which it is possible to win on symbol combinations from both left and right. Furthermore, it has the opportunity to play with ten different levels of intervention and a coin value ranging from £0.01 to £1. This makes one round can cost anything from £0.01 to £100.
When it comes to special features have Starburst, besides the possibility of winning combinations from both left and right, plus an expanding wild symbol. Wild symbol substitutes as usual for all other symbols, but when it appears on reels two, three or four, expanding this to cover the entire wheel. While this occurs spins the wheels again. This leads to big profits can be paid and you can have as much as three extra spins with expanding wilds free. It is precisely this feature that can pay top payout of 50,000 coins!
Starburst is basically a classic video slot with 5 reels and 3 lines with integrated wild symbol to create momentum and increase the entertainment value. There are no complicated bonuses or extras, but it's Starburst-star who is the only bonus symbol. Otherwise, it's about line combinations of three identical symbols in a row from both the right and left of the top ten profit lines. Repayment ratio is at 96.1% which is extremely high but the low variance makes it almost win on each spin.
Special Symbols and Bonus Features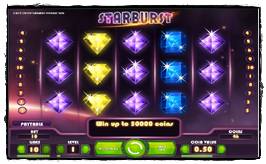 Starburst is as I say without a doubt the most popular slot games of all time, and also the variant is very common that a casino is giving away free spins in. In virtually all of our recommended Norwegian casinos, you can get a bunch of free spins on Starburst testing casino with. But you can also get free spins inside the game itself by spinning up Starburst-star.
The rainbow-star works as a joker (wild) and takes the shape of the symbol that gives the best profit, but can only be spun up on reels two, three and / or four. When the star appears as it expands over the entire wheel to pay out any winnings. After that the benefits paid out to lock the wheel with the stars and the other wheels are spinning and running again. Do you get a new star in one of the other wheels repeat the same procedure again, but this time when the two-wheel full of wild-stars. A truly successful round can thus generate three free spins, re-spins or if we'll be finicky.
Summary
Starburst is a gaming machine that will most likely appeal to players who like a classic slot machine concept with a polished exterior. Starburst is not the cool special effects the game without a traditional and potentially profitable machine in a very delicious shell! Netent has Starburst created another slot machine of very high quality, test yourself and be convinced!
The simplicity really shine through when Starburst offer neither bonus games or some free spins, but it is certainly not to its detriment. Profit opportunities are amazing anyway and after all, is not it quite nice anyway to actually having to bother about the bunch of extra functions and symbols? We believe in anyway and thanks Starbursts simplicity, we believe that this is a slot that will not lose in popularity!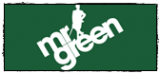 100% up to £100 Welcome Bonus
Huge Selection of Games
One of the Largest Mobile Casinos