Wicked Circus Slot Review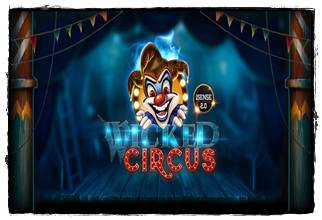 Wicked Circus is a new slots coming from Yggdrasil Gaming. Slot games belong to the popular Jokerizer series that has captured many hearts casino. The theme contains dark themes reminiscent of Stephen King's world but is very entertaining. It feels like you are entering a magical world consisting of adrenaline-pumping mystery. This video slots tempts on with grim graphics and sound and a lot of exciting features and you can enjoy the benefit both bonuses, scatters and free spins.
Slot game, Wicked Circus comes from the developers Yggdrasil Gaming and is a game with five betting lines only. These are spread across five reels and three lines. The game features the ability to adjust the coin value to set the total bet before each round.
Gameplay, Theme and Graphics
Wicked Circus is equipped with five pay lines on five wheels. But because the pay lines moving from right to left and vice versa, so you are offered, in reality, ten payline. You can choose to bet from £0.01 up to £100 at one time. The launch of this slots celebrated of several new casinos by offering their players free spins. Some online casinos that wants to offer its customers that little bit extra, has supplemented its range of games with slots at Wicked Circus from Yggdrasil.
In Wicked Circus terrorizing Yggdrasil mascot Jester players and attracts them to stand in his Wicked Circus. The malignant laughter helps to create a feeling that you are in the middle of a thriller taken that would even scare Stephen King. The mascot is joined by traditional gaming symbols such as lemons, cherries, grapes, bells and stars.
Special Symbols and Bonus Features
Slot games offer several exciting features. 'Mystery Win "becomes relevant if you manage to get two or more wild symbols on the game board. The number of coins you win depends on the number of jokers. For example, two jokers, this can translate into a mystery win of between 40 and 400 coins and this increases as you get more wild cards. If you manage to earn five jokers, it becomes even more interesting and you can win between the 2000 and 6000 coins.
"Jokerizer Mode" is a function that is activated when you get a line win in the main game. Your profit ends up in a Jokerizer account that you can use to bet in this game mode. In this game mode does a spinning 20 coins and you can win much larger amounts than in the main game. Here you need only two jokers to win a mystery win. Game Mode ends when you win 500 or more coins or if you choose to use the "collect" button.
The "Hold Spin" you can use in jokerizer fashion before a mystery win will be paid out in connection with two to four jokers generated on the pitch. Through this function, it spins the wheel that contains no jokers, while the wheels are jokers do not move. A Hold spin will cost you 60 coins from your jokerizer account and you can repeat this spin as many times as you like as long as there are funds in the account. Your mystery win paid after all the spins and the size depends on how many jokers you managed to collect you. The gains in this slots paid from both the right and left. You will find 6 different winning symbols as well as the joker in which the potentially big profits are. The maximum you can win £60.000.
Summary
Yggdrasil Gaming is known for innovative slots and has surpassed itself with the new cool video pilot Wicked Circus. It is the latest addition to the popular Jokerizer series that has seduced the Swedish casino market. The game combines wonderful graphics and sound with a thrilling atmosphere with a wicked clown laughing in the lead role. Slot games consist of five pay lines divided into five wheels. But because the pay lines moving from right to left and vice versa, you have virtually a full ten paylines. You can bet from £0.01 up to £100 at one time. The game will tempt you with the scatter, bonus games and free spins that can be activated by a variety of cool features like Mystery Win, Jokerizer Mode and Hold Spin. If you like nasty clowns, adrenaline pumping excitement and cruel profits then this video slot for you.
Best UK Mobile Casino
400+ Number of Slots
200% Welcome Bonus up to £100